AWARDED GAMES "Amateur Division"
Award for Excellence
Ugokando

General Description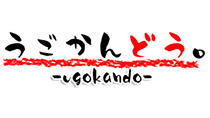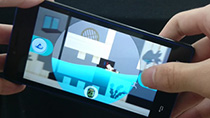 | | |
| --- | --- |
| Title | Ugokando |
| Platform | smartphone / tablet |
| School | ECC College of Computer & Multimedia |
| Winner's name | Ugokashitai |
Reason for Award for Excellence
The first impression of the game was interesting, and once played it's still interesting as expected.

Though played in a state of distraction, I played it repeatedly.

The great thing is that I felt refreshed even though I played it repeatedly.

I think it satisfies what is required for contemporary games.


Shingo Takatsuka (Konami Digital Entertainment Co., Ltd.)
Work Introdution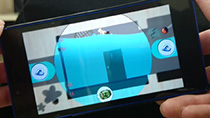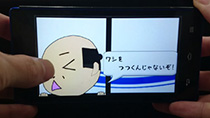 Puzzle game guiding a man floating on the water to the goal by tilting smart phone.
There are various gimmicks such as flushing fast the man using wave-generating button, increasing water volume by breaking a faucet and decreasing water level by turning on the faucet.
The tip to capture the game is to be careful about the tilt to keep the man from drowning.
It's an attractive work with the comical character of the man and addiction to repeatedly play the game.