General Description



| | |
| --- | --- |
| Title | SUPER DANGANRONPA 2 |
| Release | Jul 26, 2012 |
| Price | 6,279yen(tax included) |
| Platform | PlayStation®Portable |
| Distributor | SPIKE CHUNSOFT Co., Ltd. |
| Publisher | SPIKE CHUNSOFT Co., Ltd. |
| Developer | SPIKE CHUNSOFT Co., Ltd. |
| URL | http://www.danganronpa.com/ |
| Copyright | (c)Spike Chunsoft Co., Ltd. All Rights Reserved. |
Reason for the Award for Excellence
The characters drawn with much individualism using pop graphics and the splendid voice acting cast.

The brilliant world view and the story development that cannot be anticipated or guessed in advance has made this title hugely popular with many users,
male and female, which was an important reason for selecting it for this award.


Work Introdution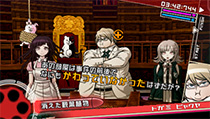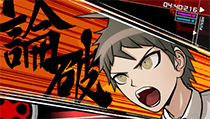 Psycho tropical battle on a South Sea island!
Blue sky, white clouds, glittering ocean, and extensive beaches.
The students of the Kibogamine School have taken a school trip to Jabberwock Island, a South Sea island famous as a resort area, but Principle Monokuma has trapped them on the island!
The students are forced to battle each other as the condition for getting off the island. A whirlwind of disbelief. Unseen madness. The battle among the beyond-high-level-ability students begins under extreme conditions.
The new "battle" school trip begins among the chokokokyu students! Only criminals (kuro) who have defeated their classmates can escape the island. Students with the beyond-high-level ability heat up the battle on this South Sea island from which the tourists and even the residents have disappeared.
High-speed reasoning action that has evolved into "Super." The high-speed reasoning action with new elements, such as counterargument showdown and logical dive, elevate the story while retaining the pleasure of out reasoning the contradictions and lies in an argument.
The brilliant psycho tropical world view! The backdrop moves to a South Sea island to create the situation of an "expansive but closed space" to realize the 2.5D psycho tropical world view that exceeds the previous title.
Splendid voice acting cast livens up the class court
Parts played by Nobuyo Oyama, Takako Sasuga, Minami Takayama,
Miho Arakawa, Akira Ishida, Megumi Ogata, Ai Kayano, Daisuke Kishio,
Ami Koshimizu, Yu Kobayashi, Tomokazu Sugita, Kana Hanazawa,
Romi Paku, Jun Fukuyama, Yoshimasa Hosoya, Kotono Mitsuishi,
Suzuko Mimori, and Hiroki Yasumoto.
(Random order, titles omitted)
Comment of the game producer
Thank you very much for this prestigious award.

This is the sequel to the original Dangan Ronpa: Academy of Hope and High School Students of Despair that was so popular with fans, and many said it would be difficult to outdo the first version. Against that background we introduced the Super Dangan Ronpa 2: Farewell Despair Academy, so it is a great honor to receive to such a prestigious award as this.

The anime of the previous title, Dangan Ronpa, is currently being broadcast and that has made the best version of the previous title a very good seller, and it appears that those who have completed the play are now playing Super Dangan Ronpa 2.

Even though the award this time was for Super Dangan Ronpa 2, I hope receiving this award will contribute to further expansion of the Dangan Ronpa world including anime and events as well as Dangan Ronpa itself.

And more than anything else, this success is due to the enthusiastic support of the Dangan Ronpa fans.
In particular, a spoiler getting out would ruin this title, but the fans promoted the game without giving away a spoiler.
It is truly the power of the fans that made the contents endearing. I want to offer my sincere thanks and I would be most happy if we can continue to enjoy this title together.

Spike Chunsoft Co., Ltd.
Senior Producer
Yoshinori Terasawa