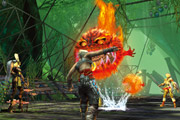 The mighty Arcadia Empire, preparing for an impending war with its old foe, invaded and subjugated its neighbors one after another.
Dalmaska, the small kingdom where this tale is set, suffered the same fate as that of other small countries around Arcadia Empire.
It has been two years since the Empire's invasion. A new consul from Arcadia Empire has arrived in Rabanastre, the capital of Dalmaska.
Vaan, a young man who lives in downtown Rabanastre, regards the consul as his enemy. The Empire's soldiers have killed Vaan's elder brother, who was his only family.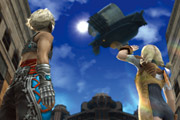 Vaan works out a plan to frustrate the new consul. He intrudes into the castle where the consul lives. Vaan plans to steal valuables from the castle and upset the consul.
In the castle, Vaan has an unexpected encounter. He meets Princess Ashe, only heir to the throne of Dalmaska, who was believed to have been killed in the last war.
Princess Ashe, who has lost everything; Vaan's friend Penelo; the sky pirates Balfear and Fran; and Bash, slayer of the Dalmaskan king and former captain of the Dalmaskan army...
The story revolves around encounters among these impressive characters. The mystery behind the invasion by the Arcadia Empire will be revealed in the land of Ivalice.