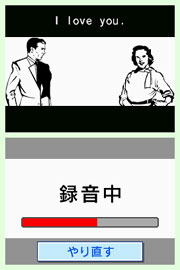 This software for the Nintendo DS is a fun and easy way to drill yourself in English.
By listening and writing with a touch pen, you can learn basic English naturally. Even those who have no confidence can start with easy phrases such as "Thank you" and "OK." After running through the drills, you can monitor your improvement by skills tests. You can see your progress by looking at the graph that shows the test results. In addition to the regular "training mode," mini games of dictation and crossword puzzles are available under the title of My Drill.
Just five minutes of drills a day makes it easy for people who are busy to learn English every day.