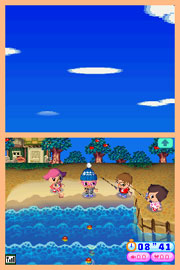 "Animal Crossing: Wild World" is the fourth title in the Wild World series, and has been reproduced to be playable on "Nintendo DS." Wild World provides an alternative world in which time passes at the same pace as in the real physical world.
In the artificial world created, players are free to do anything they like. They can chat with one another, dress up, catch insects, go fishing, go shopping or more. What furniture would you like to put in your room? What style would you like to make your village? The world you create reflects your personality.
With the wireless communication system, you can visit villages of your friends, where you may discover unknown aspects of your friends' personalities.
The Nintendo-Wi-Fi Connection makes it easy for you to play together with friends far away. With "Animal Crossing: Wild World" you can interact and stay close with all your friends.
Enjoy the slow life at your own pace in your own way in this carefree village.