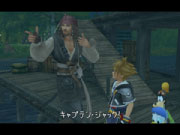 Kingdom Hearts II, the sequel to Kingdom Hearts, is an outstanding role-playing game developed by Square Enix exclusively for the PlayStation®2. Following on the heels of the Dragon Quest® and Final Fantasy® series, it has gained popularity.
The story continues from the first of this series, with Sora, the main character, interacting with Disney characters as he ventures through several worlds. New characters and worlds have captured the attention of fans.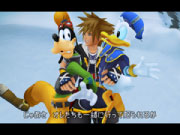 The worlds through which the hero ventures include one that is new in this series. The worlds come from various animated feature films, including "Beauty and the Beast," and "Mulan." A new and challenging world of live action from "Pirates of the Caribbean" is attracting public attention.
New elements have been added to the battle system, which makes this entry stand out from its predecessors.
Hikaru Utada is on board again, writing and singing the theme.