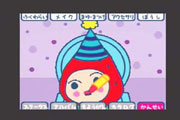 The player runs a shop with one of the characters from TAMAGOTCHI, the much-loved virtual pet game. By answering requests from customers who visit the shop, you can grow your business. The touch pen is the only control for this game, which makes it easy to play.
When the player helps other businesses, such as the dentist, the hot spring and the octopus-ball shop, to expand, she can get new items to use in the game.
In addition to the main game, you can take care of your TAMAGOTCHI partner by feeding it, re-dressing it and buying it new furniture. You can even poke it with the touch pen to see how it reacts. The game is equipped with a new function that has made it possible to wirelessly distribute a trial version to other Nintendo DS units and to swap snacks with other TAMAGOTCHI NO PUCHIPUCHIOMISETCH users.