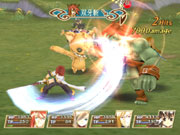 Thank you for granting the Award for Excellence of the Japan Game Awards, 2006, to our game.
The Abyss was developed mainly by those involved in creating Symphonia. It was created by expanding and improving the rendering and game design elements used in Symphonia and appreciated by the users.
Under an unbelievably tight schedule, frantic efforts by the creative staff and others made this tenth anniversary work possible. I believe that our efforts have been appreciated by users, which has earned us this award.
Our staff will continue to improve the "Tales of" series. Thank you very much.