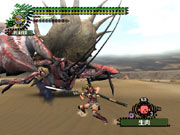 Thank you very much for granting us the Award for Excellence.
In the two years since the debut of this series, we've released three Monster Hunter games: MHG, MHP and MH2. Looking back on these two years, I'm delighted we've been able to receive support from the users and the many people who were involved in developing these games.
Recently we announced the making of Monster Hunter 3, for the PS3. Our team is rising to the challenge of developing for this next-generation console. We hope for your continued support of the Monster Hunter series.
-- from the Monster Hunter 2 Development Team